This time of year has always been my favourite time of year, with warm weather and Wimbledon, for me it has always epitomised summer because of the fond memories that it brings back.
I don't remember when I really got into tennnis, but I do know that Bjorn Borg was a major factor in converting me, and I became an avid tennis fan when I was fourteen. I can especially remember the summer of '77, when the weather had been hot (something to be treasured in England) and the championships had been thrilling: with Borg constantly taking us through five set matches whilst we sat on the edge of our seats.
One particular evening my mum and dad had gone 'up the club' as we used to say, to have an evening out, leaving my eighteen year old sister and I indoors watching the tennis. It was a hot evening and Borg was playing Vitas Gerulaitis, I lay on the sofa periodically jumping up whenever Borg scored a point. The match was a thrilling five set match that played late into the balmy evening.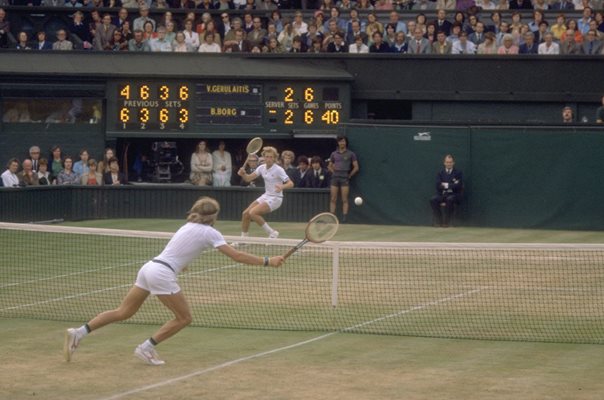 My dear Dad had left us with some money because the 'Ice Cream Man' normally came to our lane on a Thursday evening, and as we watched the match we could hear his chimes as he came up our lane. I can remember my sister pulling rank on me and insisting that I went out and queued for the ice creams whilst she watched the match.
Running out as fast as I could I beat all the young kids and getting to the front to the queue so that I could get back to the match, and decadently buying us both an Oyster Ice Cream each , considered the queen of ice creams back in the 70's.
I just remember that time to be such a happy time: my mum and dad were getting on and not arguing, my school life was going well and I had started to gain the confidence that I would take with me for the rest of my life; the weather was good and the tennis was better. Borg went on to win that year.
It's funny how particular things resonate with you; I watchWimbledon every year but if you ask me to think of a match it will always take me back to that balmy Thursday evening in Essex when life was innocent and good.
I never thought at that time that one day I would be watching the tennis in my house in France. I suppose it goes to show that if you believe, and face your fears, life really can be an adventure; and your memories go with you wherever you are.
Have a good day.
PS: A song to make you smile
Rosie